Mobile safety steps 4 tread light use
Stock Code: S011
Product Details
Classic colour range, 4 step. Average working height 2.52m Platform sizes, 1016 high x 380 wide x 280 deep. Overall sizes, 1683 high x 580 wide x 955 deep. Ribbed rubber tread. Anti-Slip tread available. Loadings 130 kg

These safety steps are ideal for library office and other low use areas. They have cupped feet with with rubber buffers and are not recommended for industrial or warehouse applications. They are provided with a handle to one side for ease of use and have non marking tyres.

The finish is in a powder coat that is wear resistant.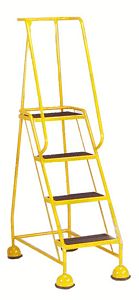 | Pricing | |
| --- | --- |
| RRP / List Price | £359.94 |
| Your Price: | P.O.A |